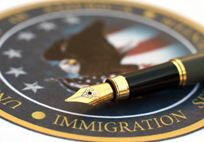 Our office received approval of both the I-601 Waiver (Application for Waiver of Excludability) and I-212 Waiver (Application for Permission to Reapply for Admission) for the Brazilian spouse of a U.S. citizen wife.  The couple have one daughter together who is two years old.  They also raise a 6 year old son together who is from a prior relationship of the U.S. citizen wife.
The Brazilian husband entered the U.S. on a B-1/B-2 visitor visa and overstayed for over approximately 1.5 years in the country.  He was then detained and removed from the United States.  He subsequently re-located from his home country of Brazil to the United Kingdom for greater economic opportunities that would allow him to support his family back in the United States.
The U.S. citizen wife contacted me after her husband attended his immigrant visa interview at the U.S. embassy and was denied for the immigrant visa after being deemed inadmissible to the United States.  He was subject to the 10 year "unlawful presence bar" pursuant to INA INA Section 212(a)(9)(B) as well as the 10 year "deportation bar" pursuant to INA Section 212(a)(9)(A)(i) and (ii).
Section 212(a)(9)(B) of the Act provides, in pertinent part:
(i) In General – Any alien (other than an alien lawfully admitted for permanent residence) who –
(II) has been unlawfully present in the United States for one year or more, and who again seeks admission within 10 years of the date of alien's departure or removal from the United States, is inadmissible.
(v) Waiver. – The Attorney General [now the Secretary of Homeland Security (Secretary)] has sole discretion to waive clause (i) in the case of an immigrant who is the spouse or son or daughter of a United States citizen or of an alien lawfully admitted for permanent residence, if it is established to the satisfaction of the Attorney General [Secretary] that the refusal of admission to such immigrant alien would result in extreme hardship to the citizen or lawfully resident spouse or parent of such alien.
Section 212(a)(9)(A)(i) and (ii) of the Immigration and National Act, as added by IIRAIRA Section 301, provides that foreign nationals who have been ordered removed may not be readmitted to the United States until they have stayed outside the U.S. for a specified period of time:
5 years for individuals removed through summary exclusion or through removal proceedings initiated upon the person's arrival in the U.S.;
10 years for those otherwise ordered removed after a deportation hearing or whodeparted the United States while an order of removal was outstanding; and
20 years for a second or subsequent removal.
The I-212 waiver allows foreign nationals who wish to return to the U.S. prior to meeting the required amount of time outside the U.S. to file an application for permission to reapply pursuant to INA Section 212(a)(A)((iii).
The USCIS exercises broad discretion when adjudicating I-212 waiver requests for permission to reapply.  The following may be considered positive factors in granting permission for early re-entry:
 Basis for the deportation
Foreign national's length of residence in the U.S., and status held during that presence
Family responsibilities and ties to the U.S.
Foreign natonal's evidence of good moral character
Foreign national's respect for law and order
Evidence of reformation and rehabilitation
Hardship involving the applicant and others
Need for the applicant's services in the U.S.
Whether the applicant has an approved immigrant or non-immigrant visa petition
Eligibility for a waiver of other inadmissibility grounds
Absence of significant undesirable or negative factors
Negative factors may include:
Evidence of moral depravity, including criminal tendencies reflected by an ongoing unlawful activity or continuing police record
Repeated violations of  immigration laws, willful disregard of other laws
Likelihood of becoming a public charge
Poor physical or mental condition (however, a need for treatment in the United States for such a condition would be a favorable factor)
Absence of close family ties or hardships
Spurious marriage to a U.S. citizen for purpose of gaining an immigration benefit
Unauthorized employment in the United States
Lack of skill for which labor certification could  be issued
Serious violation of immigration laws, which evidence a callous attitude without hint of reformation of character
Existence of other grounds of inadmissibility into the U.S.
"Extreme hardship," for purposes of the I-601 Waiver, has a special meaning under U.S. immigration law.  The factors considered relevant in determining extreme hardship include:
Health of the qualifying relative: ongoing or specialized treatment requirements for a physical or mental condition; availability and quality of such treatment in the foreign national's country, anticipated duration of the treatment; whether a condition is chronic or acute, or long or short-term.
Financial considerations: future employability; loss due to sale of home or business or termination of a professional practice; decline in standard of living; ability to recoup short-term losses; cost of extraordinary needs, such as special education or training for children; cost of caring for family members (i.e., elderly and infirm parents).
Education: loss of opportunity for higher education; lower quality or limited scope of education options; disruption of current program; requirement to be educated in a foreign language or culture with ensuing loss of time in grade; availability of special requirements, such as training programs or internships in specific fields.
Personal considerations: close relatives in the United States and/or the foreign national's country; separation from spouse/children; ages of involved parties; length of residence and community ties in the United States.
Special considerations: cultural, language, religious, and ethnic obstacles; valid fears of persecution, physical harm, or injury; social ostracism or stigma; access to social institutions or structures.
Any other information that explains how your personal circumstances may qualify as imposing extreme hardship on a qualifying U.S. citizen or lawful permanent resident relative.
Spouses must demonstrate that their relationship will suffer more than the normal hardship or financial inconvenience caused by family separation.
I drafted a comprehensive 25+ page waiver memorandum outlining the relevant case law favorable to my client's situation.  It also discussed in detail the extreme hardships the U.S. citizen wife (and their children) are presently suffering from, and proved how they would worsen in the event of continued separation of this family.  I also highlighted a variety persuasive factors that I believed warranted an exercise of favorable discretion on the part of the USCIS.
Some of the favorable factors in this case included the following:
The U.S. citizen wife suffers from a number of medical conditions including Gallstone Pancreatitis and emotional depression.  She almost died from post-operative pneumonia after a recent medical procedure.
The U.S. citizen wife's U.S. citizen son suffers from Attention Deficit Hyperactivity Disorder ("ADHD"), Obsessive Compulsive Disorder ("OCD"), Pervasive Developmental Disorder, and Adjustment Disorder with Mixed Emotions and Conduct.  He sees a psychologist regularly and takes medication for his conditions.
The U.S. citizen wife resides with her elderly parents, both of whom suffer from serious medical conditions.  The U.S. citizen wife's father suffers from Pulmonary Thromboembolism, Hypertension, and Emphysema and has been informed by his physician that he may not survive his next heart attack.  The U.S. citizen wife takes care of her parents as best she can on a daily basis and helps manage their medical treatment.
The U.S. citizen wife has only a high school education, does not speak Portuguese, and has minimal employment prospects in Brazil and the United Kingdom.
The Brazilian husband worked diligently while in the United States to support his wife and two children.  He has continued to do so while residing abroad, sending money to his family every month while enduring a painful separation of almost 4 years from his beloved wife and two children
As a result of the I-601 Waiver and I-212 Waiver prepared and submitted by my office, both waiver applications were approved and the Brazilian husband now resides in the United States as a lawful permanent resident of this country.